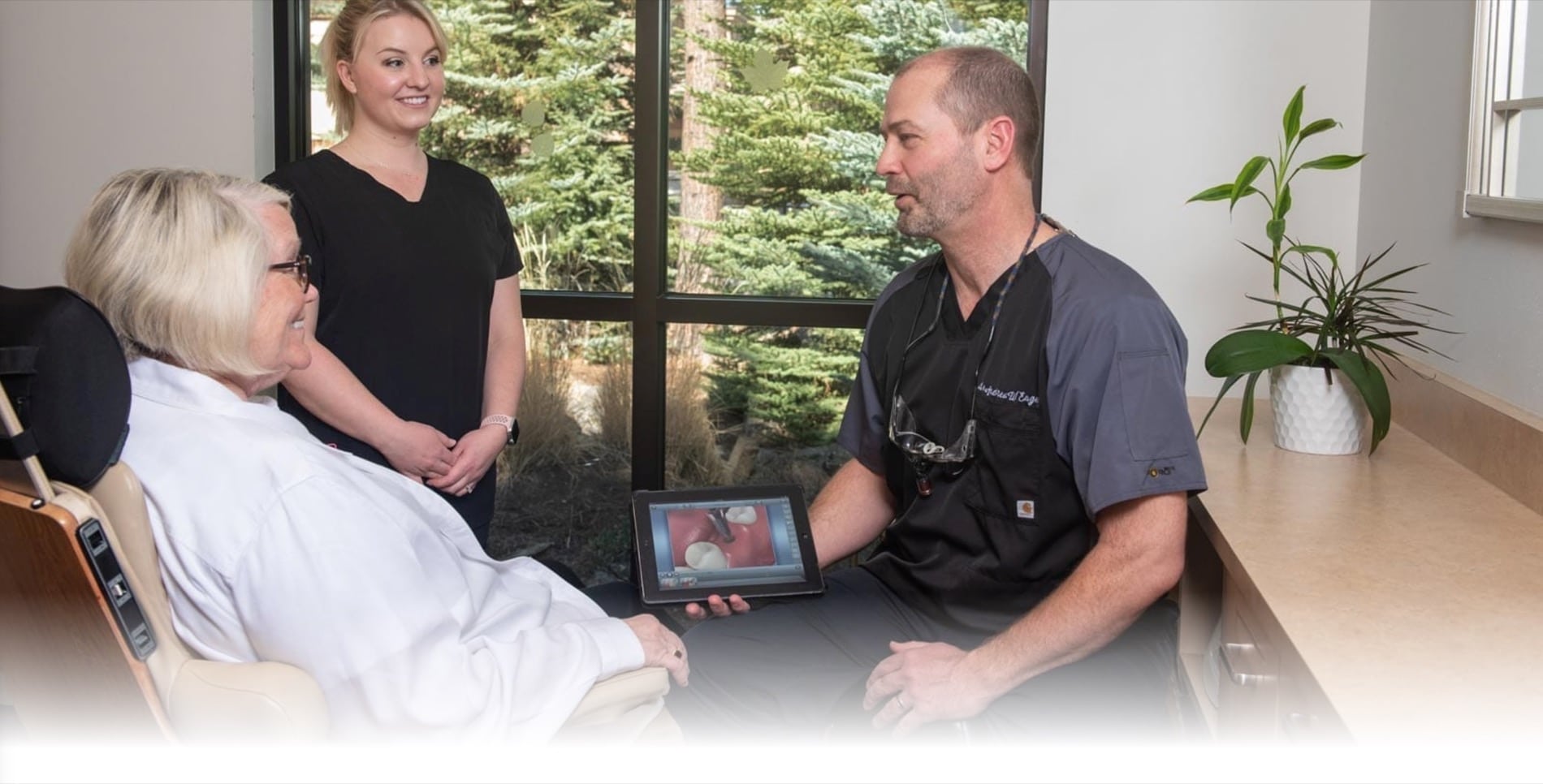 Welcome to Living Dental Health
Top Rated Dentist in Bend, Oregon
focused on customized care with a gentle touch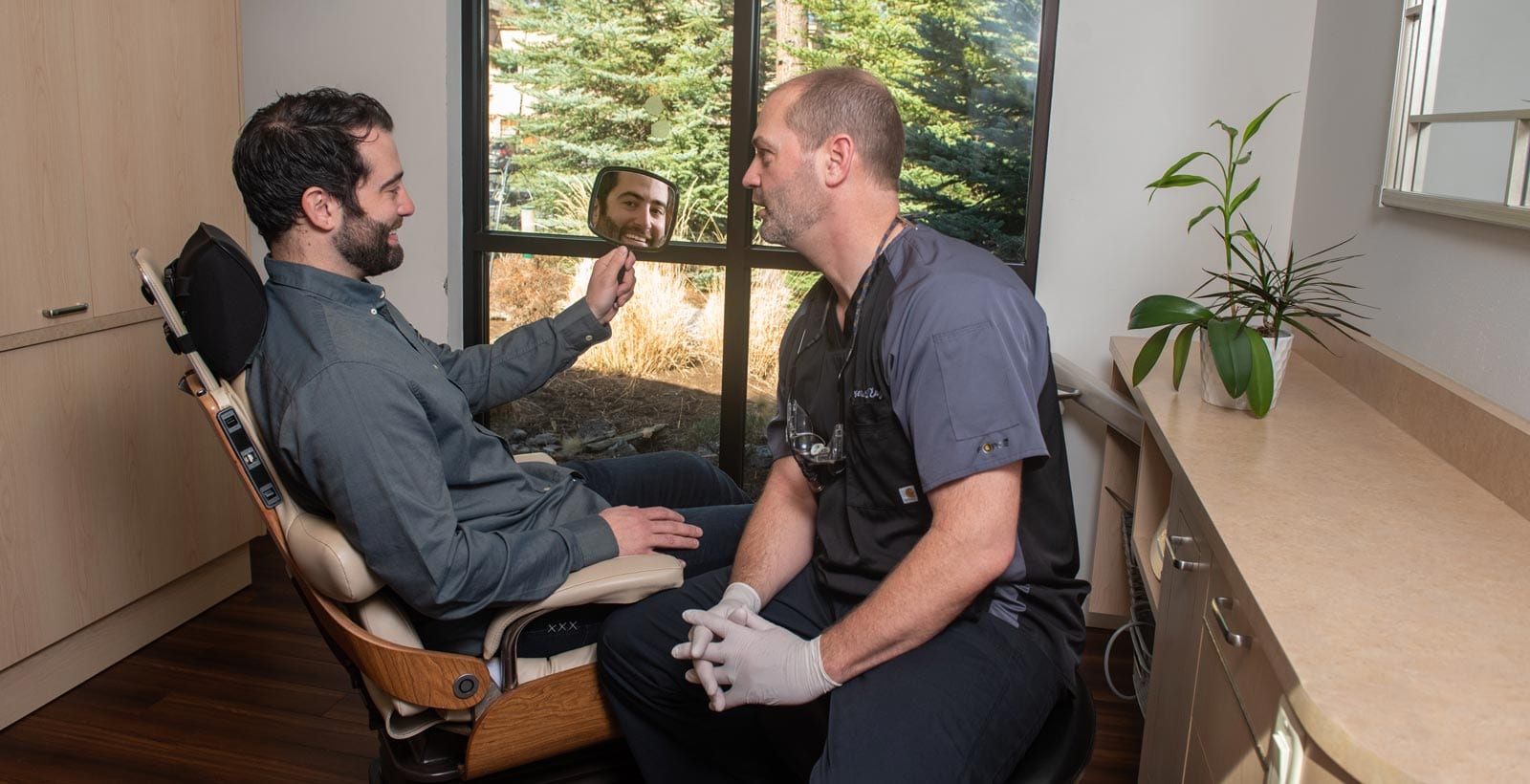 Choosing the Best Dentist in Bend, OR for your family
There are a lot of dentists in Bend, Oregon. How do you choose the best one for you and your family? 
At Living Dental Health, we believe that great dental health starts with great relationships. Our motto is "focused on customized care with a gentle touch," and we strive each day to make that the guiding principle of our work.
So what does that mean for you? Not only do we offer gentle, state-of-the-art dental care, but we do it with a warm, caring attitude. Dr. Andy Engel, or Dr. Andy as he's know by his patients, is one of the best dentists in Bend, Oregon for a reason. He takes time at every appointment to check in with his patients and get to know what's happening in their lives. To him, building trust with patients is critical to a long-standing relationship.
It is our mission to ensure every patient feels heard and cared for. We have various offerings to give our patients the best access to the highest quality of care. Whether you have dental anxiety, gum disease, need your wisdom teeth removed, or need a good dental cleaning and examination, we are here for you.
That's why our patients keep coming back and telling their friends and family to come too! If you're looking for a dentist in Bend, OR, check us out! We'll work to make sure you're happy you did.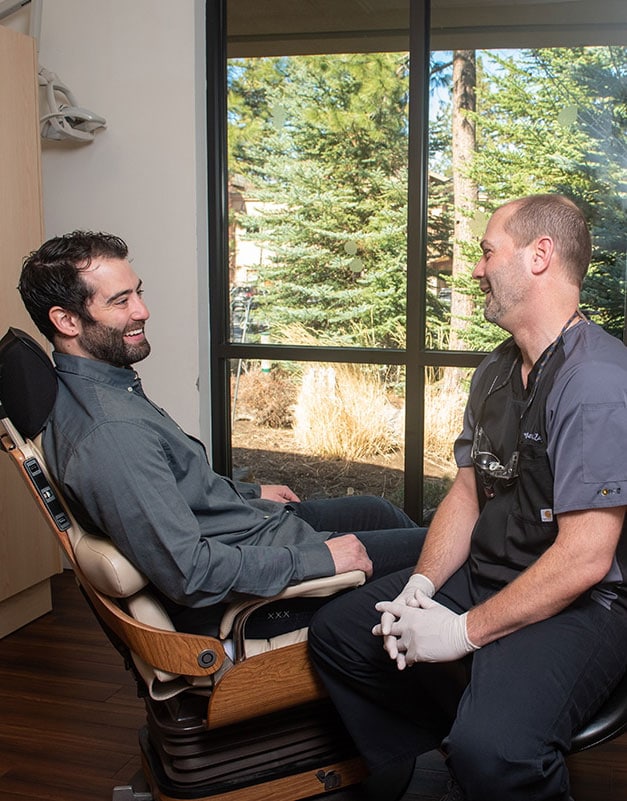 We're committed to great patient care…
We Believe in friendly, compassionate dentistry.

Over 25 years of improving smiles.

Your comfort is our priority.

Family-friendly practice for Central Oregonians age 12 and up.

Comprehensive offerings with a dentist you can trust.

No insurance? No problem. We offer an in-office dental plan.
Looking for a Bend, OR Dentist for your entire Family?
Are you searching for a dentist for the family? We are pleased to provide comprehensive dental services for adults and children 12 years of age and up. Our gentle approach to dentistry will put even the most nervous adolescent or adult at ease. 
Whether you or your family are searching for a dentist in Bend, OR who can provide dental cleanings by expert dental hygienists, a smile makeover, or annual dental examinations, we are here to help. From preventative care to oral surgery, we want to give you something to smile about.
Some of our preventative dentistry services include: Dental cleanings, Dental exams, Dental X-rays, Dental sealants, Fluoride treatments
Don't compromise your dental care. Choose a dentist you can trust, regardless of insurance.
At Living Dental Health, we are pleased to be in-network with a variety of dental insurance plans. If your dental plan is not one we are in-network for, we can still provide the same excellent services out-of-network. If you don't see your plan below, give us a call to determine if your family's treatments are covered.
Your smile is one of the first things people notice, and we want you to feel confident enough to share it with the world. Whether your goal is to whiten and brighten your smile or have a complete smile makeover, we have various offerings to meet your dental aesthetic needs and goals.
From wisdom teeth removal to dental implants, we are pleased to provide several oral surgery treatments to help restore function and comfort. Dr. Andy Engel has advanced training in full mouth reconstruction and oral surgery and is able to offer many of his patients more than traditional dental services. When you have a dentist you trust, why go elsewhere?
NO INSURANCE?
NO PROBLEM.
Learn About Our Dental Savings Plan. 
We are also delighted to offer an in-office dental plan. The plans available range from traditional dental services to include dental cleanings and an exam to more comprehensive dental care for those with conditions that require more frequent visits. Call our office to learn more about the dental plans at Living Dental Health.
Dr. Andrew W. Engel was born in the grand state of North Dakota, but raised from an early age in Boise, Idaho. Dr. Andy moved to Oregon in 1988 where he finished high school and entered into the University of Oregon in 1990. In 1994, he graduated with a degree in General Science and a minor in Chemistry. Dr. Andy directly entered into the dental school at Oregon Health Sciences University and graduated in 1998.
Finishing early with requirements, he was fortunate to do extra studies/procedures at the University in full mouth reconstruction and oral surgery. In 1998 he moved to Bend, Oregon and helped establish Century Dental Group. Living Dental Health was created to solely incorporate Dr. Andy to his own practice. Due to a desire to learn and repeated patient requests, Dr. Andy has done extensive training in aesthetics, full-mouth reconstruction, implants, ClearCorrect, tissue and bone grafting surgeries.
Kind Words From Our Patients
We are so pleased to have found Dr Engel and his team! My sons had aged out of the pediatric dentist they had grown up with and it was time for all of us to get re-established. We have each had our turn in the chair and each experience was favorable. The entire team, from front desk to the back, is welcoming, compassionate, and caring. In particular, one of my sons has sensory issues and requires a little extra care and compassion. Again, the entire team was so gracious and made him feel comfortable from the beginning. He no longer fears going to the dentist, even for the fillings.
Robin R.
I recently had a wisdom tooth removed by Dr. Andrew. I have to say because of a previous tooth removal at another dentist office I was extremely nervous about having this wisdom tooth out. I opted for local anesthesia and Dr. Andrew did an amazing job with getting the area completely numb. I felt no pain at all and tooth was out in under 2 min. It was such a great experience. Thank you Dr. Andrew and Kaitlyn!
Holly V.
Dr. Andy and his team are seriously the best! Kate at the front office is very personable and a joy to speak with when I'm making appointments or paying a bill. They have worked with me and my husband on multiple treatment plans. Highly recommend!
Serena K.
My visits to Living Dental Health have been positive beyond all expectation–in fact, just extraordinary. Janet schedules appointments and manages the finances. She has been a helpful advisor regarding insurance, is very good at projecting costs, and last year provided me with a full list of expenses for tax purposes. She is very nice and just knows everything! Cheryl, the dental hygienist, is the best in the business. Dr. Engel—Andy—is the best dentist I have ever had. Highly proficient, gentle, fun to visit with and a trusted dental advisor. If you are looking for dental care, Living Dental Health has my highest recommendation.
Greg L.