Oral surgery includes a wide range of procedures including:
When you find a dentist you love and trust, it is crucial to know they can take care of most of your dental needs. At different points in your life, you may find yourself in need of oral surgery to improve your teeth and mouth's function and health. Standard procedures that fall under oral surgery include wisdom teeth removal or dental extractions.
YOUR COMFORT IS OUR PRIORITY
When seeking a Bend, Oregon oral surgeon, it is essential to consider experience and results. It is also necessary to understand how we will maintain your comfort during and after your procedure. At Living Dental Health, Dr. Andy Engel typically uses sedation via an oral pill called Triazolam (Halcion) for oral sedation. It is widely used for the short-term treatment of insomnia. Its rapid onset and short duration of action make it an ideal anti-anxiety medication for dental patients.
The most common side effects of benzodiazepine sleeping pills are related to the medications' ability to make you sleepy, drowsiness, dizziness, light-headedness, and difficulty with coordination. Users must be cautious about engaging in hazardous activities requiring complete mental alertness, e.g., operating machinery or driving a motor vehicle. Do not take alcohol while using triazolam. You should not use Benzodiazepine sleeping pills with other medications or substances that may cause drowsiness without discussing their use with Dr. Andy Engel.
How sleepy you are the day after you use Halcion depends on your response and how quickly your body eliminates it. The larger the dose, the more likely you will experience next-day residual effects such as drowsiness. For this reason, we use the lowest effective dose.
Unlike general dentistry, oral surgery is a specialty practice that requires advanced training to perform the surgeries competently. Unlike most local general dentists, Dr. Andy Engel has a background in dental surgery. This provides him with the expertise to complete various oral surgery procedures ranging from the extraction of wisdom teeth to dental implants and tissue and bone grafting.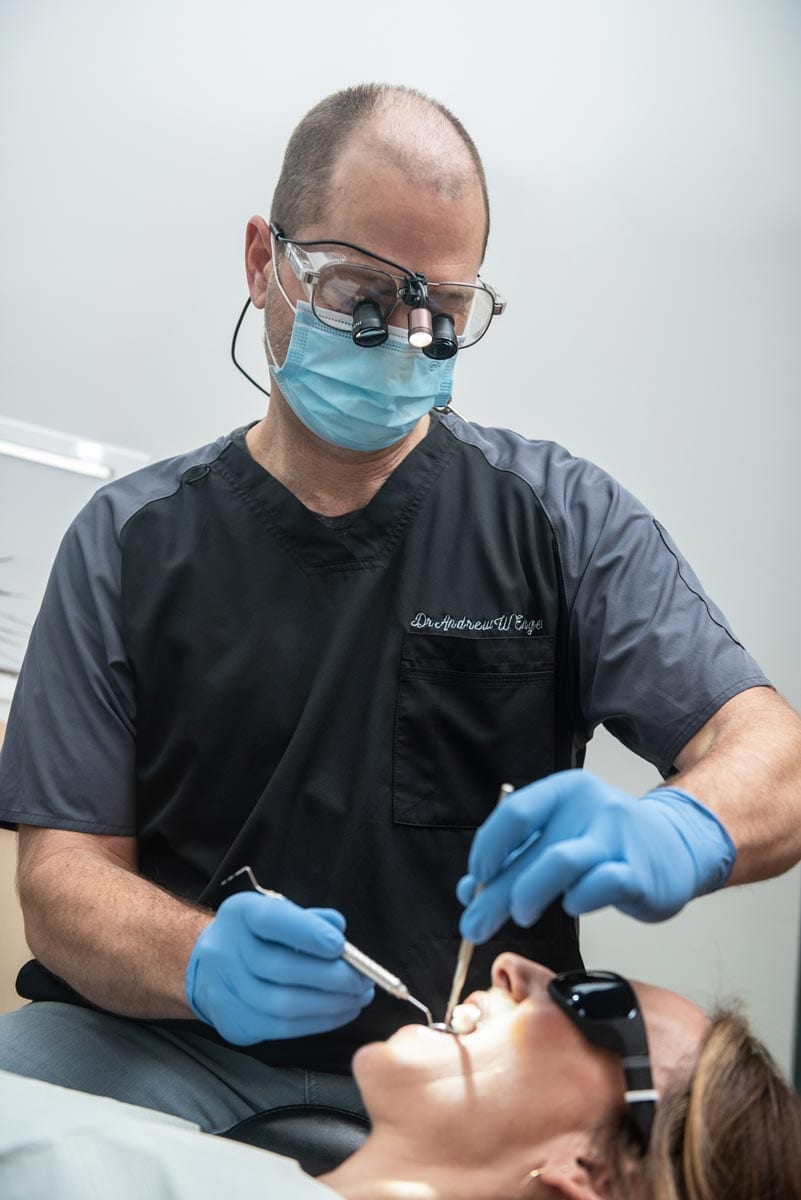 NEXT STEPS
To learn more about oral surgery, Dr. Andy Engel invites you to schedule a consultation with him. During your consultation, Dr. Andy will evaluate your area of concern and discuss options to help you achieve your goals. He will spend as much time as you'd like to answer all of your questions, so you feel comfortable with your treatment recommendation. 
INSURANCE, FINANCING AND OUR IN-OFFICE DENTAL PLAN
We believe that everyone has a right to the very best health care. And we believe that a healthy mouth is indicative of a healthy body.
DON'T COMPROMISE YOUR DENTAL CARE. CHOOSE A DENTIST YOU CAN TRUST, REGARDLESS OF INSURANCE.
At Living Dental Health, we are pleased to be in-network with a variety of dental insurance plans. If your dental plan is not one we are in-network for, we can still provide the same excellent services out-of-network. If you don't see your plan below, give us a call to determine if your family's treatments are covered. 
Payment is due at the time of service unless other arrangements have been made in advance. If you have questions, we are happy to provide clarification. Also, we accept most major credit cards and offer financing through CareCredit as well as an in-office dental plan. 
NO INSURANCE? NO PROBLEM!
We are also delighted to offer an in-office dental plan. The plans available range from traditional dental services to include dental cleanings and an exam to more comprehensive dental care for those with conditions that require more frequent visits. Call our office to learn more about the dental plans at Living Dental Health.