FULL MOUTH RECONSTRUCTION in Bend, OR
FULL MOUTH RECONSTRUCTION in bend, OR
Having a mouth that looks good from an aesthetic standpoint and functions well is essential for maintaining good oral health and total wellness. A full mouth reconstruction refers to a series of procedures that combine cosmetic dentistry to enhance your smile with reconstruction science. Not only can this procedure create a dramatic transformation of your smile, but it can also help you live a more healthy life. 
Dr. Andy Engel may recommend full mouth reconstruction if you have broken or missing teeth, wide gaps between teeth, badly worn teeth due to a condition called bruxism, or decayed teeth. It may also be recommended if you have certain medical conditions that require reconstruction of all of your teeth. In some cancer patients, a full mouth reconstruction may only involve certain teeth that have been badly damaged.
UNDERSTANDING YOUR OPTIONS FOR FULL MOUTH RECONSTRUCTION
In our Bend, Oregon dental office, full mouth reconstruction is a customized treatment unique to the individual. Understanding your needs and goals is critical for helping you achieve a beautiful smile and allows you to chew efficiently. Depending on your needs, Dr. Andy Engel may recommend: 
Dental Bonding 

Dental Bridges 

Dental Crowns

Dental Implants

Dental Fillings

Dentures

Porcelain Veneers
In addition to the procedures listed above, Dr. Andy may use bone grafting to strengthen your jaw bone for dental implants. He may also employ tissue grafting if there is a recession of the gingival tissue. Lastly, Dr. Andy may recommend orthodontia to shift your teeth to allow for a maximum aesthetic outcome.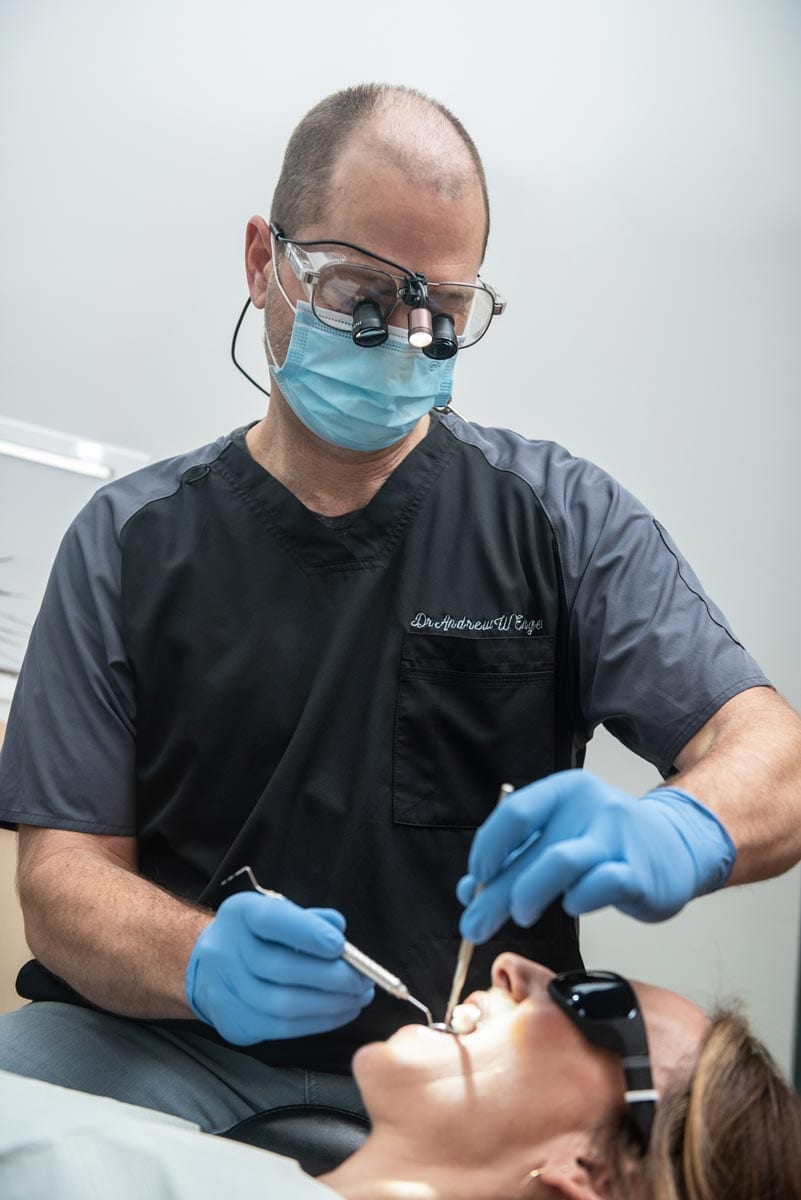 INSURANCE, FINANCING AND OUR IN-OFFICE DENTAL PLAN
We believe that everyone has a right to the very best health care. And we believe that a healthy mouth is indicative of a healthy body.
DON'T COMPROMISE YOUR DENTAL CARE. CHOOSE A DENTIST YOU CAN TRUST, REGARDLESS OF INSURANCE.
At Living Dental Health, we are pleased to be in-network with a variety of dental insurance plans. If your dental plan is not one we are in-network for, we can still provide the same excellent services out-of-network. If you don't see your plan below, give us a call to determine if your family's treatments are covered. 
Payment is due at the time of service unless other arrangements have been made in advance. If you have questions, we are happy to provide clarification. Also, we accept most major credit cards and offer financing through CareCredit as well as an in-office dental plan. 
NO INSURANCE? NO PROBLEM!
We are also delighted to offer an in-office dental plan. The plans available range from traditional dental services to include dental cleanings and an exam to more comprehensive dental care for those with conditions that require more frequent visits. Call our office to learn more about the dental plans at Living Dental Health.