DENTAL CLEANINGS in Bend, OR
YOUR PATH TO A SPARKLY, CLEAN SMILE
If you find yourself looking in the mirror after a dental cleaning with delight because your mouth feels amazing, you're going to love us. Nothing beats that clean mouth feeling you get after a thorough dental cleaning. A skilled dental hygienist who takes the time to thoroughly clean and polish your teeth is an asset to any dental practice. Our experienced dental hygienists take as much as is necessary to ensure you receive a thorough cleaning. Educators at heart, they will provide tips to help you maximize your oral health, limit the risk of tooth decay, and prevent or address gum disease.
FLUORIDE TREATMENTS
Brushing, flossing, and regularly visiting the dentist is essential for maintaining oral health and reducing the risk of decay. Another excellent way to reduce the risk of cavities is with fluoride treatments. Fluoride helps prevent tooth decay by remineralizing the enamel. It also helps with sensitivity and can be even be used before having your teeth cleaned to reduce sensitivity.
After your dental cleaning, we will ask if you'd like us to apply fluoride to your teeth. It takes just a couple of minutes. The fluoride treatment we use is a varnish that we apply with a cotton swab. It hardens immediately on your teeth, so you can eat and drink after your appointment. Our fluoride treatment has an uptake of fluoride for seven days after application, which helps with sensitivity, and prevents decay. Also, It is FDA approved for dental hypersensitivity. Most insurances cover the application of fluoride in our office.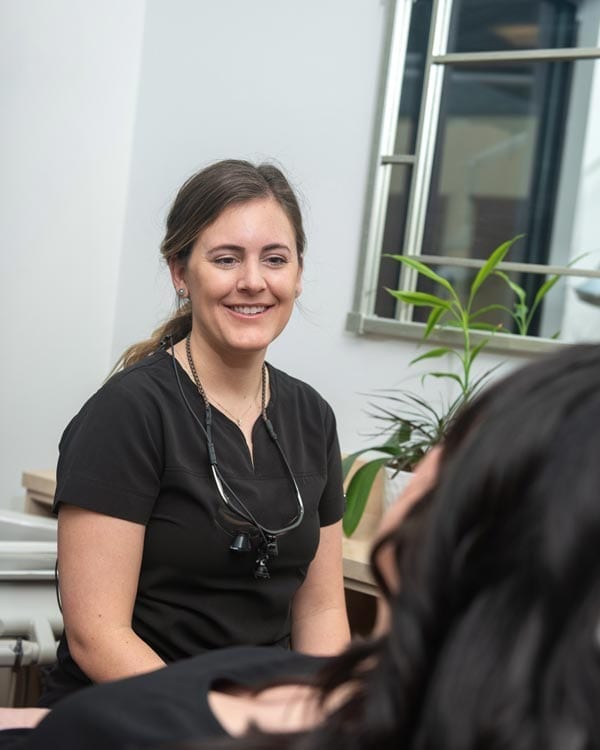 TOOTH SENSITIVITY AND DENTAL ANXIETY
If you're one of the many people who have sensitivity due to recessed gums, or anxiety about getting a dental cleaning, you'll be happy to know that we can prescribe Halcion. Considered a type of conscious sedation, Halcion is a pill that causes amnesia and reduces anxiety. You will take Halcion one hour before your appointment. For patients with dental anxiety, this is a game-changer. Appropriate for short to moderate length procedures, Halcion is an excellent option if you have moderate anxiety levels. 
SCALING AND ROOT PLANING 
Commonly known as deep cleaning, scaling, and root planing (SRP) is a non-surgical treatment for periodontal disease, also known as gum disease. It is the first line of defense in stopping or slowing the progression of the disease. We will remove hard calculus deposits and debris from below the gums using special hand instruments, an ultrasonic scaler, or both during your SRP treatment. The amount of time needed to complete your SRP depends on the severity of your gum disease. Many patients receive SRP in two visits. If Dr. Engel recommends SRP to you, he will provide details about how best to proceed.  
Your comfort is always a priority to us; therefore, we use Oraquix in SRPs. Oraquix is a local anesthetic that we apply without a needle to periodontal pockets. It works quickly – taking effect in 30 short seconds, and lasts 14 to 31 minutes, which is just enough time for most scaling and root planing jobs.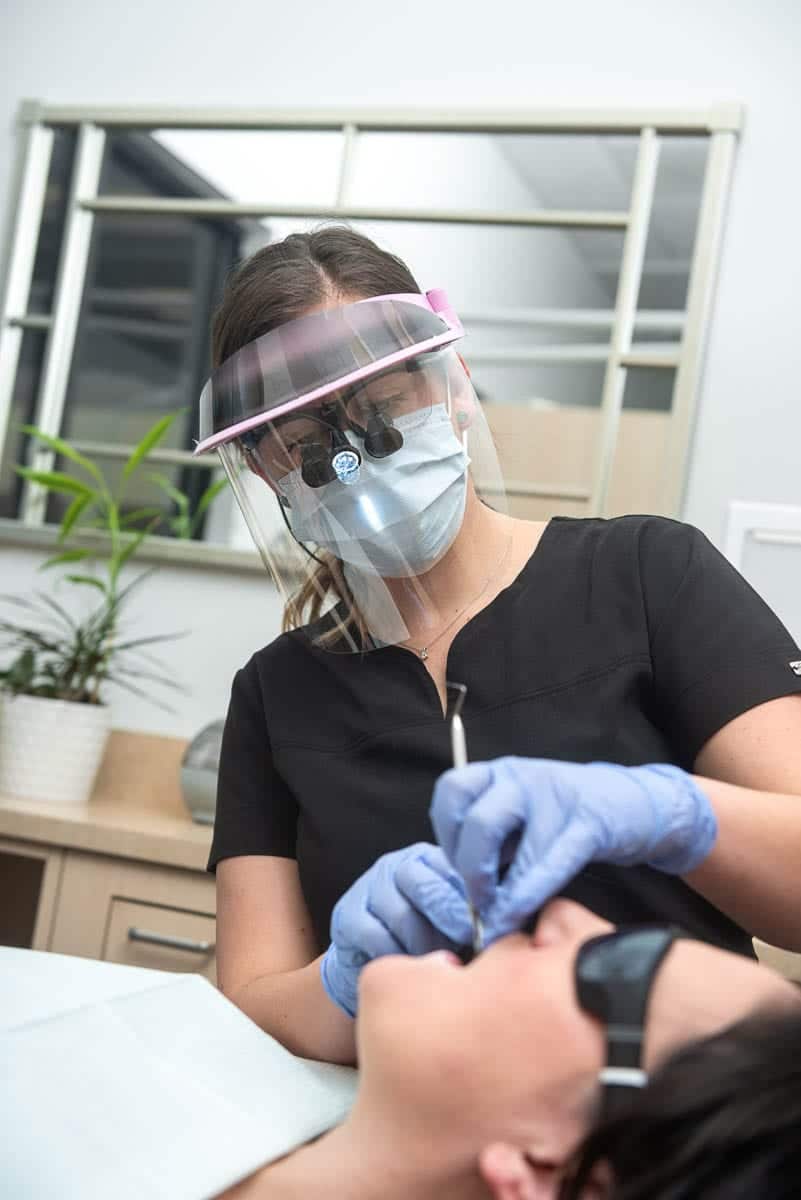 PERIODONTAL DISEASE MAINTENANCE IN BEND, OREGON
If you are diagnosed with periodontal disease, Dr. Engel will recommend periodontal (perio) maintenance once your SRP is complete. Your dental hygienist will schedule your perio maintenance treatments at regular intervals, determined based on your gum disease severity. Most patients are seen at our office every 3 to 4 months. The purpose of SRP is to 
maintain the deep cleaning effects of the SRP to minimize your risk of disease progression. In addition to perio maintenance at our office, you will also need to incorporate proper home care using cleaning aids such as small brushes to clean between tooth roots, water pik, and a special type of dental floss. 
If we find that you are not responding well to our treatment, Dr. Engel may refer you to a periodontist, a dentist specializing in the treatment of gum disease. 
CLEANING FOR PEOPLE WITH DENTAL IMPLANTS
An estimated 3 million people have dental implants in the United States. Proper care of dental implants starts with precise cleaning to prolong their appearance and functionality. Proper maintenance also helps reduce the risk of peri-implantitis. This inflammatory condition affects the hard and soft tissues surrounding the implant and can result in a loss of bone structure.
At Living Dental Health, our hygienists play a vital role in keeping your dental implant disease-free. Regular deep cleanings will ensure your implants are functioning correctly and that you are maintaining them well. 
Home care includes the use of soft-bristled toothbrushes, a water flosser, crown and bridge floss, and a low abrasive toothpaste. Bacteria and plaque can accumulate under and around the implant. An angled neck toothbrush or an interdental brush can help keep your implants in good condition. 
An excellent resource for caring for your dental implants at home can be found here.
INSURANCE, FINANCING AND OUR IN-OFFICE DENTAL PLAN
We believe that everyone has a right to the very best health care. And we believe that a healthy mouth is indicative of a healthy body.
DON'T COMPROMISE YOUR DENTAL CARE. CHOOSE A DENTIST YOU CAN TRUST, REGARDLESS OF INSURANCE.
At Living Dental Health, we are pleased to be in-network with a variety of dental insurance plans. If your dental plan is not one we are in-network for, we can still provide the same excellent services out-of-network. If you don't see your plan below, give us a call to determine if your family's treatments are covered. 
Payment is due at the time of service unless other arrangements have been made in advance. If you have questions, we are happy to provide clarification. Also, we accept most major credit cards and offer financing through CareCredit as well as an in-office dental plan. 
NO INSURANCE? NO PROBLEM!
We are also delighted to offer an in-office dental plan. The plans available range from traditional dental services to include dental cleanings and an exam to more comprehensive dental care for those with conditions that require more frequent visits. Call our office to learn more about the dental plans at Living Dental Health.